Meet Azzurro's 2023 Rolex Sydney Hobart Crew
Jack Kliner
Jack's passion for sailing began in his early teens, sailing anything he could get a ride on around Sydney harbour. It did not take long for Jack to catch the sailing bug, and soon enough he was enrolled with Eastsail doing his RYA competent crew and racing in regular twilight races. Fast forward a few years and Jack achieved his RYA Offshore Yacthmaster certificate and worked for Eastsail out of Rushcutters Bay part time whilst also studying Structural engineering at the University of Sydney. Jack has competed in multiple Brisbane to Gladstones and Sydney to Hobarts, and loves the challenges that ocean sailing presents. A family friend introduced Jack to the beautiful S&S34 design, and after much research and a great test sail was convinced that this was one of the best boat designs from a safety and racing perspective. Jack previously skippered the family boat Morning Star and now Azzurro, which successfully came 1st overall on ORCi and 3rd overall on IRC in the 23' 75th Brisbane to Gladstone.
"My goal is to have a competitive and safe sail South to Hobart with a crew full of mates.
The S&S 34 design is a tough boat. We have supercharged the boat and optimised it for ocean yacht racing. Together with one of the most experienced and youthful crews, I think we can win our and the Corinthian Division. I also think we will do well overall in IRC."
Jessica Watson (OAM)
Best known for sailing an S&S 34 Ella's Pink Lady solo, non-stop around the world aged 16, Jess has completed two Rolex Sydney to Hobart yacht races, one as skipper of the youngest team to compete in the race.
Although she loves sailing more than ever, these day's Jess 'sensible day job' in Deloitte's Human Capital consulting team keeps her in the office during the week with weekends spent club racing on Melbourne's Port Phillip Bay and working on her own S&S 34 Credence.
"A Rolex Sydney to Hobart on an S&S 34 is an absolute bucket list adventure. Azzurro is such a brilliant and well-loved little boat! It's Azzurro that I've followed closely on the Hobart race tracker in recent years, so jumping onboard this year seemed like one of those silly, fantastic ideas that makes perfect sense."
Steve Quiros
Steve's passion for sailing branched off his love of the ocean when Jack took him for a cruise on his previous S&S 34, Morning Star. Since then, he spends a lot of his free time cruising around Moreton Bay in Brisbane, as well as crewing on both Morning Star and Azzurro in various races such as Brisbane to Gladstone, Surf to City and the Kingfisher Series. Over time, he has accrued several thousand cruising and training miles and is currently focused on achieving his RYA Yachtmaster certification. He is also a qualified RYA Day Skipper.  
Steve enjoys the physical, mental, and tactical challenges that sailing brings as well as the continuous learning that is required. When he's not sailing, Steve is working as a consulting chartered structural engineer.
"It is very exciting to have such a talented group of people together to steer our little boat down to Hobart. I truly believe we possess all the necessary tools, expertise, and drive within the crew to really bring home some great results on board Azzurro. 
I personally really look forward to having a fun and safe trip, share some great times together and hopefully score some silverware in the process. At the very least, I have promised the crew to always bring snacks to share when sitting on the rail"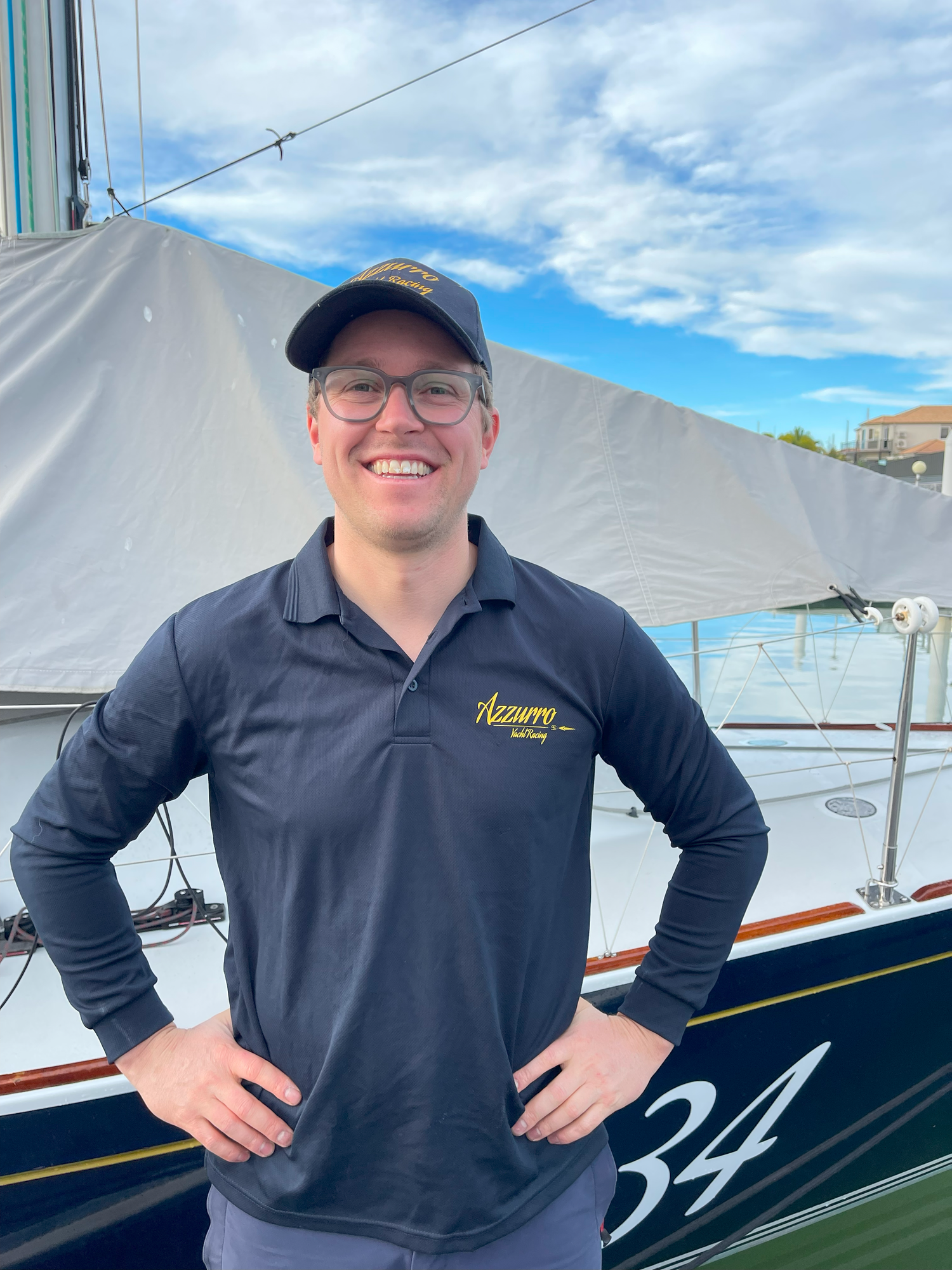 Samuel Duncan
A lifelong sailor, Sam started in International cadets into 420's, I14's and keelboats and has competed in the 2016 RSHYR on Jazz Player. With 5+ years of Marine industry experience and a qualified shipwright and studied Mechanical Engineering, Sam brings a wealth of experience to the team.
Sam's goals in joining the crew on Azzurro are to be part of a smaller team and to be involved in a more well rounded role in the boat's performance after having spent most of his early sailing career forward of the mast and has enjoyed transitioning to a trimming and nav role over the last two years.
"My goals in joining the crew on Azzurro are to be part of a smaller team and to be involved in a more well rounded role in the boat's performance. I have spent most of my early sailing career forward of the mast and have enjoyed transitioning to a trimming and nav role over the last two years.  I am also enjoying having a long-term goal to train towards, both physically and mentally. 
The other perk is meeting like-minded team members and sharing all the challenges, decisions and excitement as a crew. 
Keep the boat under the mast!"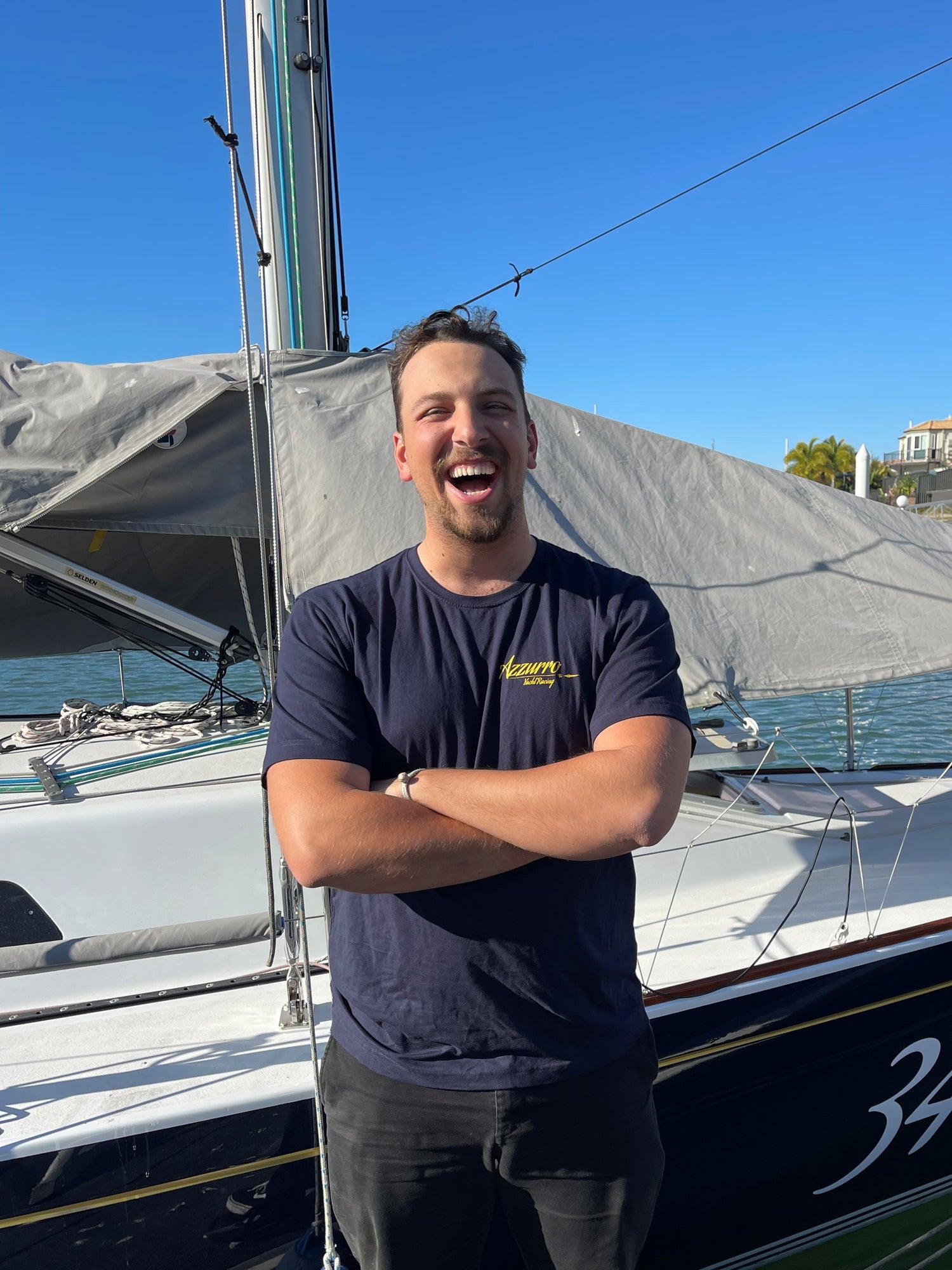 Xavier Doerr
Xavier is a keen offshore yachtie, with the 2023 Sydney to Hobart race marking his fourth crack at the great race. He has raced everything he can get his hands on - from maxi yachts to mini yachts! Most recently, Xavier has been solo sailing around Australia, making it 3/4 of the way around the country before hitting trouble in the testing Southern Ocean.
Xavier loves what he does and can't wait to race! 
"Have fun and love what you do"
Annie Eastgate
Annie started her sailing career onboard her dad's wooden Scow Moth floating around Waterloo Bay. She quickly caught the bug for competitive sailing, moving into Sabots, 420 and Lasers, finding success along the way.
After several years campaigning the women's Laser Radial on an international stage, she moved into coaching and currently works for Australian Sailing and the Queensland Academy of Sport as a Performance Pathway coach. When she's not coaching on the water, she's still sailing anything from VX Ones to Extreme40's. 

"Following the Sydney to Hobart race has been a lifelong family tradition and finally being a part of the race feels like a dream come true!"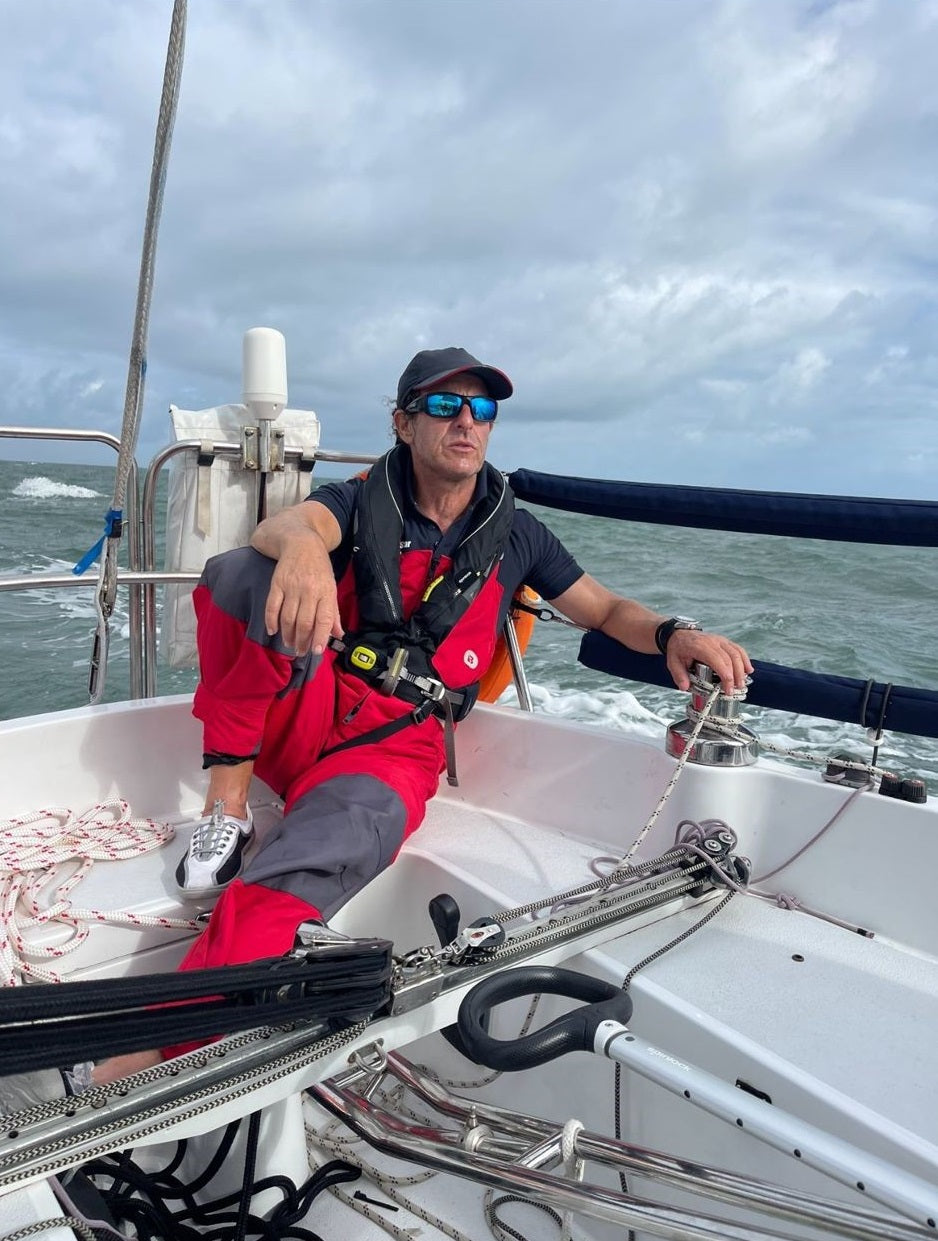 Mark Kliner
Mark Kliner is a passionate sailor who has made a name for himself in the world of competitive sailing in the East Coast of Australia. Born and raised in the UK, Mark's love for the sport began during his school days when he started participating in sailing competitions. His early experiences on the water instilled in him a deep connection with the sea and sparked a desire to pursue sailing as a lifelong endeavor.
Mark's dedication to sailing led him to become a qualified skipper, acquiring the necessary skills and knowledge to navigate the seas safely. With his extensive training and experience, he has honed his sailing techniques and developed a keen understanding of the intricacies of yacht racing.
He regularly competes in short-duration races, pushing his skills to the limit and testing his mettle against other talented sailors. These races provide him with an opportunity to showcase his expertise and continually improve his performance.
Mark takes on the responsibility of boat maintenance, ensuring Azzurro is in top condition for every race. He understands the significance of a well-maintained boat and the impact it can have on performance. Additionally, Mark is responsible for handling the logistics and resupplying of the yacht.